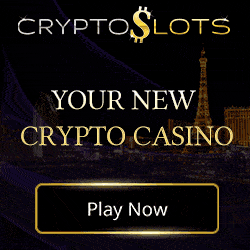 Get exclusive bonus codes to CryptoSlots Casino and play for free. Create your account via our banner and collect a 177% welcome bonus, instead of a 111% standard deal. Additionally, you will be rewarded with extra free chips and/or free spins on slots. Players from the USA welcome!
What's CryptoSlots Casino? 
Since 2018, CryptoSlots has been one of the most popular cryptocurrency-only casinos on the internet. Launched by the Slotland Entertainment Group, the same company that released Slotland Casino and WinADay Casino, CryptoSlots is the newest addition to their online casino family.
CryptoSlots is a web browser-based online casino. It's playable on smartphones, tablets and other portable smart devices, only requiring a browser to play. You won't need to look up, nor download any app to play at CryptoSlots Casino. This is a tradition that the Slotland Entertainment Group has followed for its other two online casinos as well.
The CryptoSlots Casino can be played on virtually all Android and Apple devices. For desktops and laptops, the story remains the same. CryptoSlots is compatible with both Mac and Windows, and only requires a browser and an internet connection.
CryptoSlots uses Interplay, so you only have to register one account and you can play on multiple devices. This makes switching between devices really easy. You can enjoy online gaming on your laptop while lying down on your bed, or through your mobile or tablet when you're on the move.
CryptoSlots mainly comprises of slot games, video poker, as well as table games. If you register an account at CryptoSlots, you'll have a hard time staying away. There's always something new to do at CryptoSlots. The online casino is regularly updated with new games and seasonal promotions that make every visit to CryptoSlots worth it.
Are there any bonuses at CryptoSlots Casino? 
Players are greeted with a Welcome bonus package offering multiple welcome bonuses as soon as they open a new account. Every new player is given three welcome codes that can be redeemed when they make their first three deposits.
When you use the code WELCOME1 and make your first deposit, you'll get a 111% match bonus. The bonus is capped at $500, and this applies to the other two bonuses as well.
If 111% is not enough for you, then we suggest you to redeem a code MATCH177FCFR for an exclusive 177% Welcome bonus on 1st deposit that we arranged for our players.
On your second deposit, the WELCOME2 code gives you a match bonus of 77%. And on your third deposit, the WELCOME3 bonus gives you a 99% match on your third deposit. The welcome bonuses have a wagering requirement of 35x before you can enjoy other bonuses or your deposit bonus.
As you play different games and participate in the various events, you'll find more rewards and bonuses coming your way. All the new games come with new bonuses, as do the seasonal bonuses.
There's also a weekly cashback event. The losses you incur during a period, that is, the period between Monday and Sunday will trigger a cashback event. This cashback takes place on the next Wednesday.
At CryptoSlots Casino, the biggest prize has to be the winning amount at the Jackpot Trigger. This amount is $1,000,000. But you can't play the Jackpot using anything except a special Jackpot Token, while these JT tokens are won by playing and winning at other games. Whenever you win $100, even if the win is accumulated, you'll receive a token.
The CryptoLotto tournament is a great way to win both cash prizes as well as Jackpot tokens. If you place within the top twenty, at least a few tokens will be guaranteed to you.
The VIP Membership program at CryptoSlots is another way to access lucrative bonuses. You have to be invited to join the program. The VIP membership program comprises of multiple levels, with higher levels offering even greater exclusive rewards for players.
What kind of casino games are available to play at CryptoSlots? 
All HTMl5 powered games at CryptoSlots Casino are Provably fair. This means that you can easily verify the randomness and fairness of any particular game result. The games are being developed by the Slotland Entertainment Group for CryptoSlots. That makes all the games at this online casino unique and solely playable within the brands under the umbrella of Slotland Ent.
Slot games occupy the largest space in the games catalogue. You'll find premium High Limit slot games, mid-ranging, as well as penny slot games. Popular games include Open Season, Phantom of the Opera and Fruit Mania.
Some of the slot games have exclusive features, bonuses and rewards. Players who spin the Ninja Power slot game can access an exclusive Dragon Jackpot. Grand Fortune blesses players with multipliers, and Piggy Bank is an overall enjoyable slot game.
The video poker section is full as well, with games like Tens or Better and Aces and Eights. For table games, you can e.g. try out keno.
How do we pay at CryptoSlots Casino? Is it safe? 
Only cryptocurrency is accepted at the CryptoSlots Casino. You can use Bitcoin, Litecoin or Monero to make your transactions. All cryptocurrency is transferred to USD when you make your deposit and appears in your account instantly.
The rate of exchange is updated every fifteen minutes. The information comes from the top three crypto exchanges that provide data on the latest exchange rates.
As a registered and licensed online casino, CryptoSlots takes consumer protection very seriously. Verified and registered by the Government of Comoros, CryptoSlots uses encryption software to protect all client data.
How can we contact the CryptoSlots support? 
Customer service representatives offer constant support to CryptoSlot's players. Help is available every hour of every day. You can reach Support either by sending them an email or by typing your message into the LiveChat.
Verdict
CryptoSlots Casino is definitely worth the hype. Cryptocurrency users now have an online casino that specifically caters to them and does it well. The Provably Fair casino games are one of a kind, and fun to boot.
The CryptoSlots Casino successfully blends fun with the competitive gambling spirit. If you enjoy playing unique games and huge winning streaks, then visiting CryptoSlots Casino should be on your bucket list.